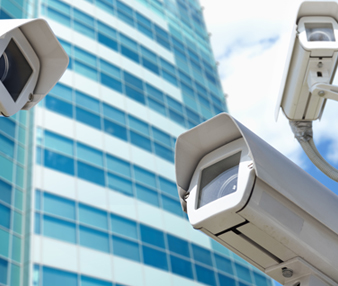 Surveillance is an integral part of any security plan. At Green Knight Security, our professional security officers understand the importance of constant diligence and surveillance to ensure the financial security of a business or company, no matter what its size. Our goal is to provide the most professional, reliable surveillance service possible. Call 844-457-8326 to talk to one of our team members. We have former law enforcement officers, military personnel, and detectives on staff who are well aware of the law as it pertains to investigations, interrogations, and the surveillance of property. We are here to help our clients find viable solutions to all of their security needs.
In-Store Surveillance
In-store surveillance takes two forms, video surveillance and security officers who patrol the interior of the business as well as the perimeter. The officers can be uniformed or in plain clothes, depending on the preference of the client. Our goal is to either provide the service for the client or offer training to current staff members who are willing to assume the role of a security officer for the business. Our security personnel know the laws pertaining to surveillance and security and are dedicated to providing each of our clients with the tools they need to protect their assets. Many companies rely on surveillance to protect their company from financial loss that results from shoplifting, employee theft, and/or damage caused by vandals. In-store surveillance is the first line of security many companies rely on to protect them from financial loss. By using video cameras as well as security officers, most companies can identify most potential threats in a relatively short period of time. Both are extremely reliable and can be used in a court of law if a person is charged with a crime and eventually goes to trial.
Insurance Fraud/Investigations
One of the most costly forms of "theft" is fraudulent Worker's Compensation or disability claims. Both insurance companies and employers hire investigators and security officers to either prove or disprove a former employer's Worker's Compensation claim. We offer surveillance services to companies who are trying to determine the true extent of a person's injuries after an accident. This type of investigation can require many hours of constant surveillance. Our goal is to help each company reach their ultimate goal of either proving or disproving the former employee's claim. We not only surveil the subject, we take photographs and video. We also interview individuals who know the individual or live near them. We provide our clients with accurate information and highly detailed reports that can be used during the judicial process. Our goal is to ensure our clients are financially protected on all levels and to the fullest possible extent. Insurance fraud is a multi-million dollar a year threat to businesses. No matter what the size of annual income of a business, an insurance case, especially a fraudulent one, can bankrupt a company in a very short period of time. Our goal is to thoroughly investigate each insurance claim and promptly do what it takes to ensure the company is protected from any type of fraud or malfeasance. The reports we submit to the company are thoroughly detailed and contain the most accurate information possible.
Training and Consulting
At Green Knight Security, our staff are capable of both training and consulting employees and members of management. We enable companies to use their own employees to form in-house security teams who are trained to handle any type of situation. Our company works with employees, teaching them techniques that will enable them to secure the premises as well as perform surveillance on several different levels. We can work hand in hand with security team members to make sure they are fully trained and able to handle a variety of situations, including shoplifting, vandalism, employee theft, and general destruction of property. Because many of our staff members are former law enforcement officers, they know and understand the law. They are capable of teaching security team members the proper way to observe and approach a possible suspect. They are also able to provide sound advice as to the best way to secure a situation and maintain a safe environment until law enforcement arrives to assist. Once we have trained a team of security professionals, our obligation does not stop there. At Green Knight Security, we will continue to provide support to the company to ensure that the security team is up to date on both training and new laws that may have been passed that pertain to the performance of their duties. Our goal is to protect every facet of a company's financial health. This includes liability and other forms of loss prevention.
Video Surveillance
Many businesses prefer not to use a full security staff. Video surveillance can be sufficient in helping to identify potential threats and possible employee misconduct. It can be used throughout the interior of the business, as well as to observe what happens outside of the business after it has closed. A security officer is normally kept at the premises to observe and review the videos on a 24-hour basis. For small companies, Green Knight Security offers the ability to strategically place video surveillance cameras throughout the business property and place the monitoring system at a second location. Many small business owners prefer to observe the business from the comfort of their own home. We also offer third party monitoring. Once the surveillance equipment is in place, we can monitor the system from our main office and contact law enforcement and the owner if anything seems to be amiss.
Security Plans
At Green Knight Security, our goal is come up with a security solution to meet every company's individual needs. We can devise security plans for any size of operation. We can oversee events, gatherings, large meetings, or day to day business activities. Surveillance is our specialty and we have all of the tools and resources a business needs to maintain the level of security they are most comfortable with. Our security plans are tailored to the company's exact needs so they are never paying for services they don't want. The staff of Green Knight Security will evaluate the company's needs and discuss all possible options available to them to help them achieve their goals. With our state of the art surveillance systems, we can provide affordable solutions for any size company. Along with the security plan, our staff are capable of providing on-site training and consultation to ensure the plans are put into motion as seamlessly as possible.
Full-Time Patrol
In addition to video surveillance, we also offer full-time security patrols who can be on the premises 24 hours a day, during business hours or after the business closes. We have highly trained security officers who are trained to identify potential threats that include shoplifting, employee theft, and various types of property damage. We can offer teams of security officers who are capable of observing large areas or a single security officer who is on staff to handle smaller threats. Our patrols are trained to act within the law and detain possible suspects until law enforcement officers arrive to take control of the situation. Because many of our security personnel are former police officers or military personnel, they know the law and what they are allowed to do in accordance with the duties of their job. They work hand in hand with the police and other law enforcement agencies to ensure the business's assets are secure at all times.
Undercover Risk Management
Many companies prefer to include undercover security officers on their staff. Undercover risk management involves plain clothes officers who regularly patrol areas of the business, as well as video surveillance. In many cases, an undercover security officer will be able to identify a shoplifter or potential risk long before either are picked up by a security camera. An undercover security officer can shorten the distance between themselves and a suspect in a relatively discreet manner giving them a much better vantage point and allowing them to gather more information. The more information an undercover risk management team member can gather, the more complete their report will be. Risk management team members are taught to not only observe, but record, everything they see while performing their duties. Our officers who work as undercover risk management team members provide the companies they work for with highly detailed reports that are based on accurate and verifiable information.
The professional staff of Green Knight Security offers a wide array of surveillance services to all of its customers. Whether you need video surveillance to keep tabs on a property after hours or a full-time security team to constantly patrol the area, we have the solution to all of your problems. Our trained professionals are able to provide the highest level of security that is designed to meet and exceed your expectations. Call 844-457-8326 today to speak with one of our licensed and bonded security personnel. Our goal is to make sure you feel protected and your property is fully secured at all times. Our surveillance systems are state of the art and our team of professionals have all of the latest tools to make protecting your property and businesses as easy as a single phone call. At Green Knight Security, surveillance is just one of the many tools we use to help companies protect their investments. We understand that no one wants to think about theft or loss prevention, however, it is a part of doing business and must be sufficiently addressed. Call our office today and talk to our professional security team. We can help you find the solution that will fit your company's security needs.